Connected wearables for tomorrow's soldier
Wearin' enables informed tactical decisions with mission-critical data generated from soldier-worn sensors.
PROTECTED SOLDIERS
React immediately to emergencies, while predicting and mitigating risks.

SITUATIONAL AWARENESS
Improve platoon coordination with real-time, two-way data flow and automatic alerts.

BIOMETRIC BASED ALARMS
Detect acute stress and fatigue and automatically generate alarms.

IMPROVED ERGONOMICS
Reduce weight and maximize mobility with devices integrated into tactical gear.

ADVANCED DATA ENCRYPTION
Protect sensitive data with end-to-end encryption and security.
Rugged, modular sensors adapted to each mission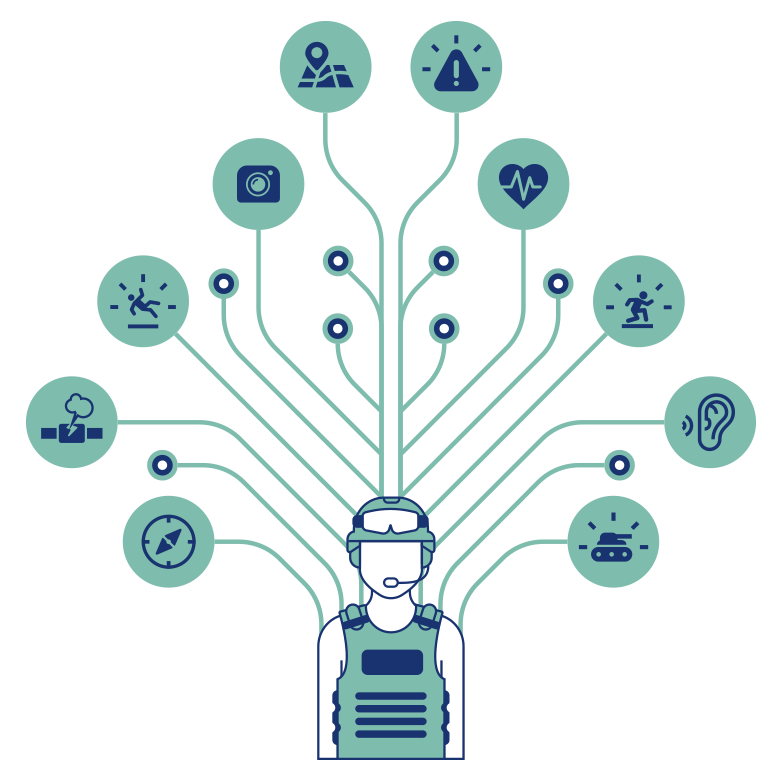 Wearin' makes it easy to integrate a range of sensors and devices into one easy-to-use, lightweight solution. With fully configurable sensors and centralized power and data transmission for all devices, you get the data you need without additional bulk.

Remotely view real-time video stream
Make tactical decisions with contextual information from body mounted cameras

Man down detection
Automatically send help

Monitor the soldier's position and troops' movement
Keep soldiers safe and ensure teams collaborate in combat

… and more