Connected workers for improved safety and productivity
Wearin' enables smarter worksites with real-time data generated from worker-worn sensors.
SITUATIONAL AWARENESS
Monitor workers and operations in real-time for improved safety and decision-making.

REAL-TIME, TWO-WAY DATA FLOW
Improve worksite communication to maintain operations and keep workers safe.

PREDICTIVE SAFETY
Protect workers and mitigate future risks with AI-generated preventative actions.

EASE OF USE
Simplify onboarding with easy to use, integrated devices and all-day power.

OPEN API PLATFORM
Simplify worksite digitalization with seamless integration into existing management systems.
Modular, plug-and-play sensors for the connected construction site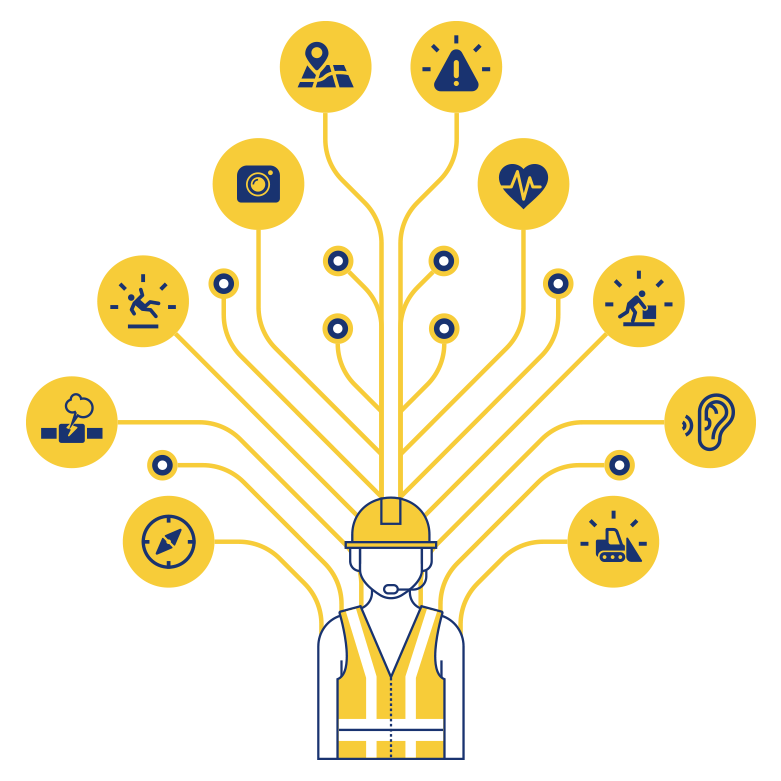 Wearin' makes it easy to integrate a range of sensors and devices into one easy-to-use, lightweight solution. With fully configurable sensors and centralized power and data transmission for all devices, you get the data you need for your unique worksite.

Detect falls
Automatically send help

Capture infrastructure data (thermal cameras, microphones, etc.)
Increase infrastructure uptime through early maintenance

Prevent collisions with heavy vehicles
Help workers get out of the way

… and more