Real-time insights from user-generated data
Wearin' generates smart, real-time insights by capturing field data from sensors integrated into day-to-day gear. Our human digital twin platform enables organizations to monitor user positions, detect health and safety risks, provide remote guidance, and capture critical operational data.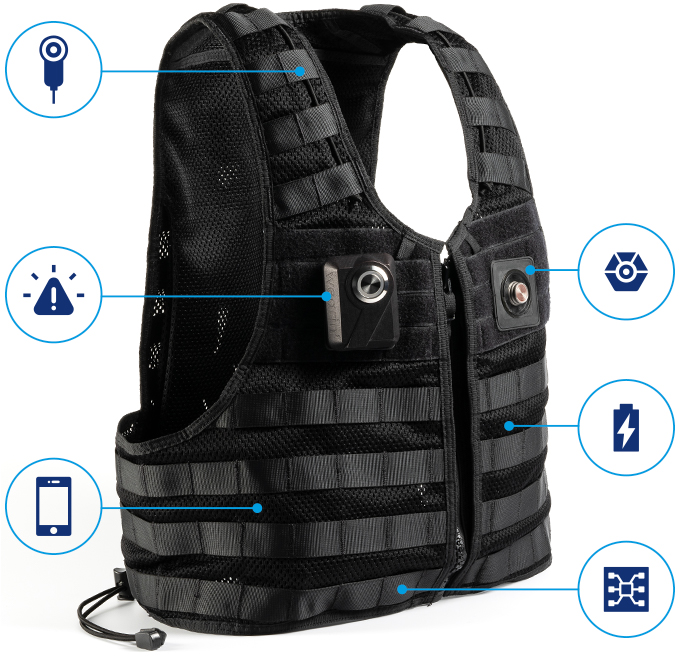 User-centric wearable sensors
Lightweight, plug-and-play sensors integrated into workers' gear provide an easy, comfortable, and hands-free experience.
Modular, configurable set-up
Integrate any sensor you need — and only those you need — from our network of partners or from other providers.
Centralized battery & data transmission
A lightweight hub powers all sensors and devices for a full day and sends sensor data securely to the cloud.
Connected workers. Smarter work environments.
Our intelligent cloud platform monitors the real-time status of all workers— their location, environment, actions, and well-being— and allows for continuous communication with them. Using AI, the platform learns from past data to generate alarms when risky situations arise, such as when it detects acute stress, a fall, or an impending collision. Through its open APIs, it provides data to other digital applications such as task management systems and ERPs, helping unify systems and consolidating data for fully digitalized operations.
With a range of configurable and extensible devices and software products, our solution can be adapted and updated to meet your industry's changing needs.
Seamless integration of modular sensors
Our modular sensor ecosystem includes your choice of plug-and-play sensors to monitor gas, proximity, falls, biometrics, high voltage, noise, temperature, etc., as well as devices such as GPS, indoor positioners, radios, and cameras.
Protect people— and their privacy
Secure, end-to-end data encryption protects sensitive information, complies with regional data regulations, and helps increase user adoption. With three configurable levels of privacy, you choose which data stays with the user, and which is available on the platform.